Save now on air fryers from Ninja, Breville and Philips
Whether you're shopping for yourself or working your way through your holiday gift list, air fryers are some of the most popular items for Cyber Monday shopping. From compact standalone models to large-capacity air fryer ovens, you can find discounts on air fryers for every kitchen.
We've scoured the internet for the best Cyber Monday air fryer deals. They include some of the BestReviews Testing Lab's favorite models, such as the Ninja Max XL Air Fryer, a compact model perfect for smaller kitchens, and the Breville Smart Oven Air Fryer, which impressed us with its versatile array of cooking functions.
Last updated on Nov. 27, 2023, at 2:30 a.m. PT.
Air fryer deals of Cyber Monday
If you're cooking for a family or entertaining often, you'll want a large-capacity air fryer that often costs a little more. These models usually offer multiple cooking functions, too, so you can do more than just air-fry.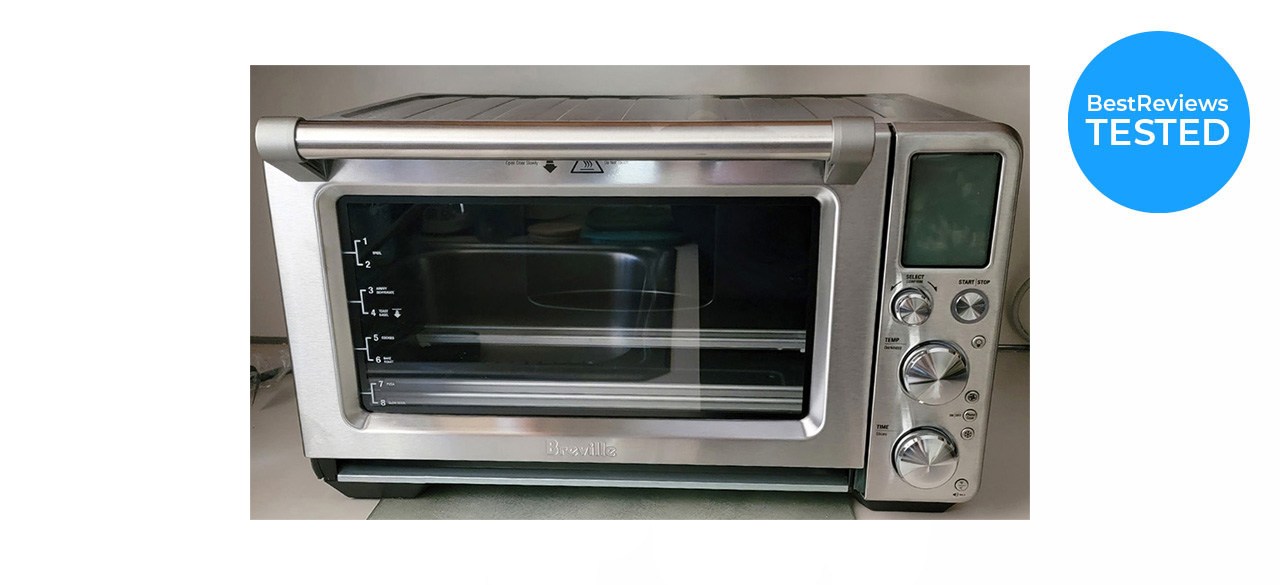 26% OFF
During testing, we were impressed that this air fryer is large enough to fit six slices of toast, a 9-inch-by-9-inch casserole dish or a 13-inch pizza but didn't take up much counter space in our testing area. We also loved its versatility — in addition to air-frying french fries, chicken wings, veggies and more, we toasted bread, baked cookies and cooked a frozen pizza with delicious results. Its LCD display and simple knob controls made it easy to use, too.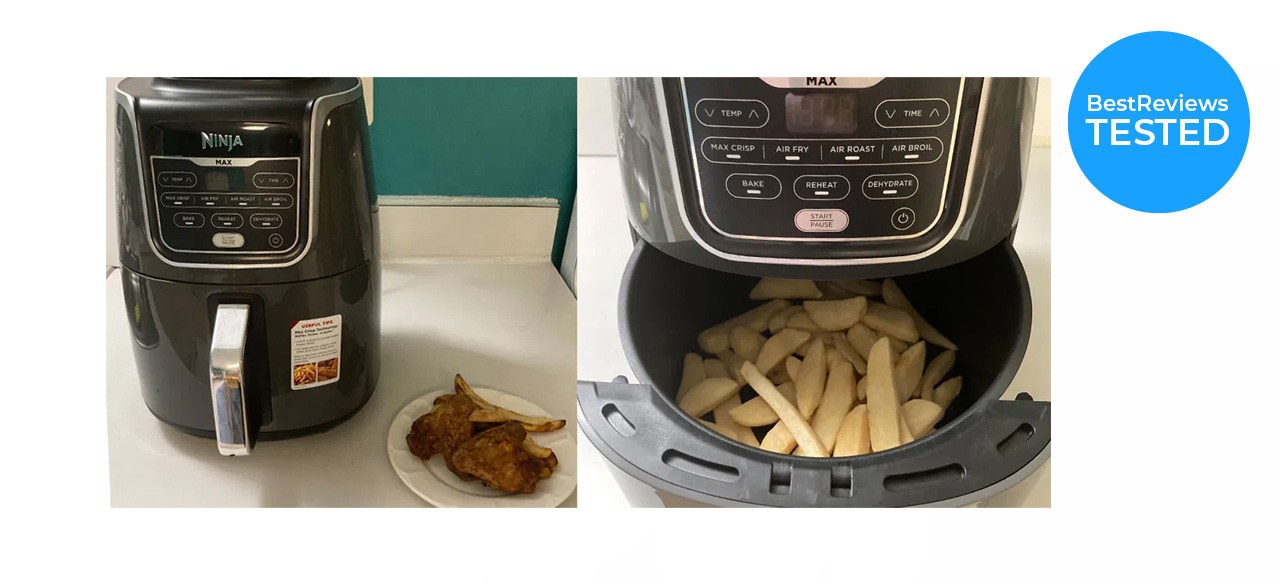 41% OFF
With seven cooking features, including air-frying, air roasting and dehydrating, we loved how versatile this air fryer is. Despite its 5.5-quart size, we also found that it had a small footprint, so it works well for kitchens with limited counter space. It cooked foods of different sizes and thicknesses evenly, too.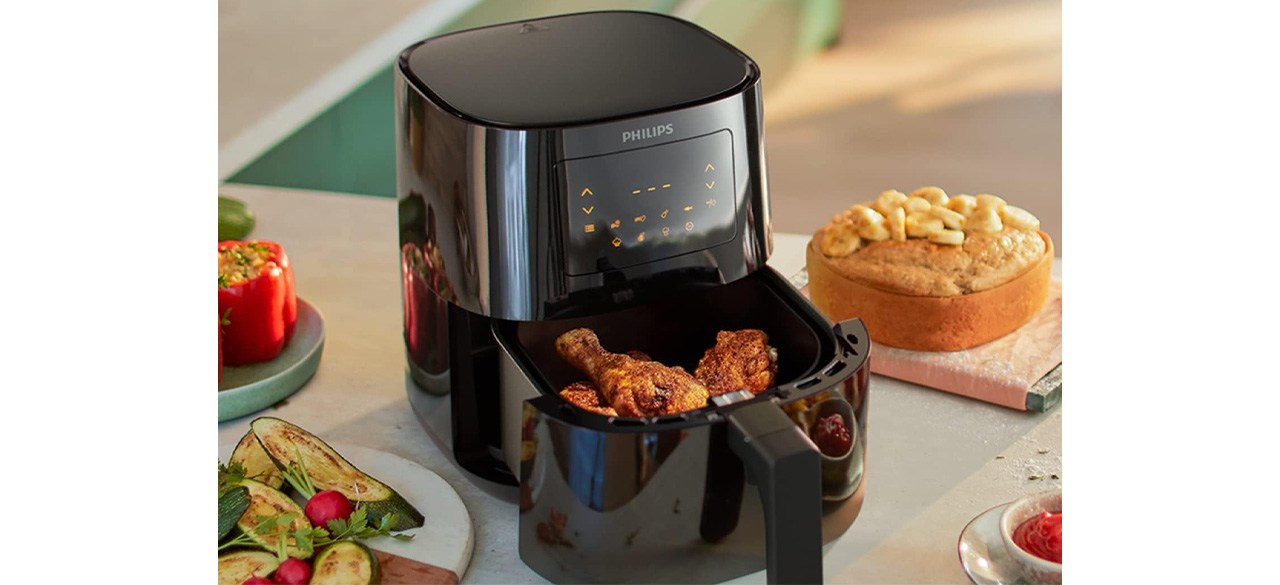 23% OFF
Despite its compact design, this air fryer can hold up to 1.8 pounds of french fries, or four servings at a time. It has a user-friendly digital touchscreen and seven convenient presets that take all the guesswork out of choosing the right cooking time and temperature. It also has a connected app with plenty of recipes to inspire you in the kitchen.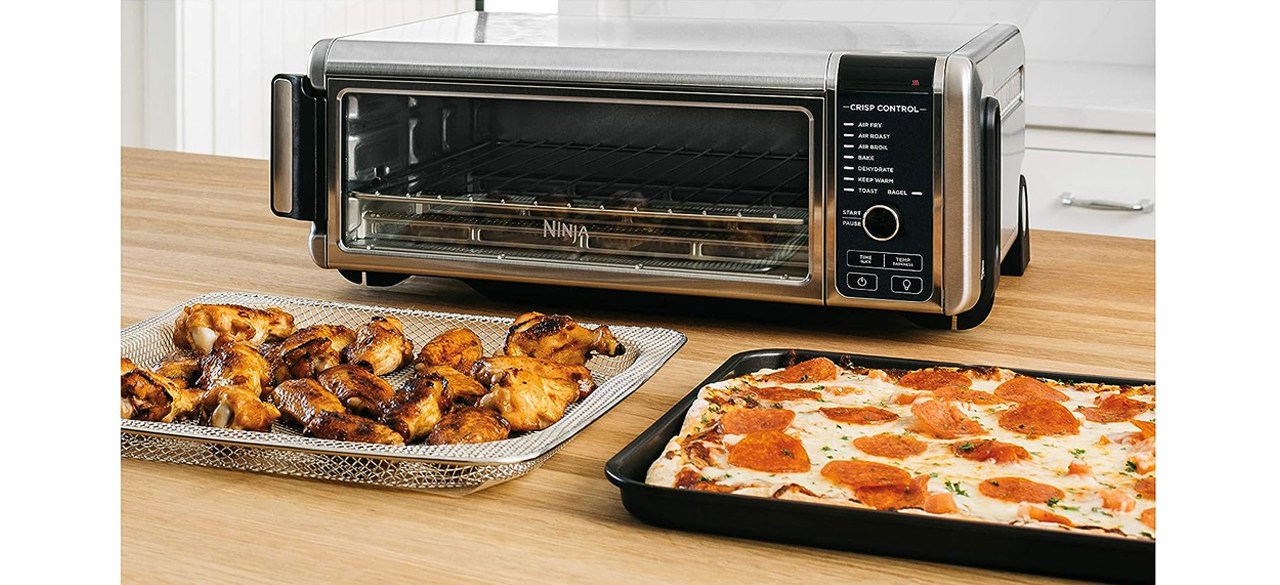 32% OFF
Do it all with this Ninja air fryer oven that boasts eight cooking functions, including air-frying, baking, broiling, roasting and dehydrating. It needs as little as 60 seconds to preheat, so it can help you get meals on the table fast. It's large enough to cook for a family, too, fitting a 13-inch pizza, nine slices of toast or six chicken breasts.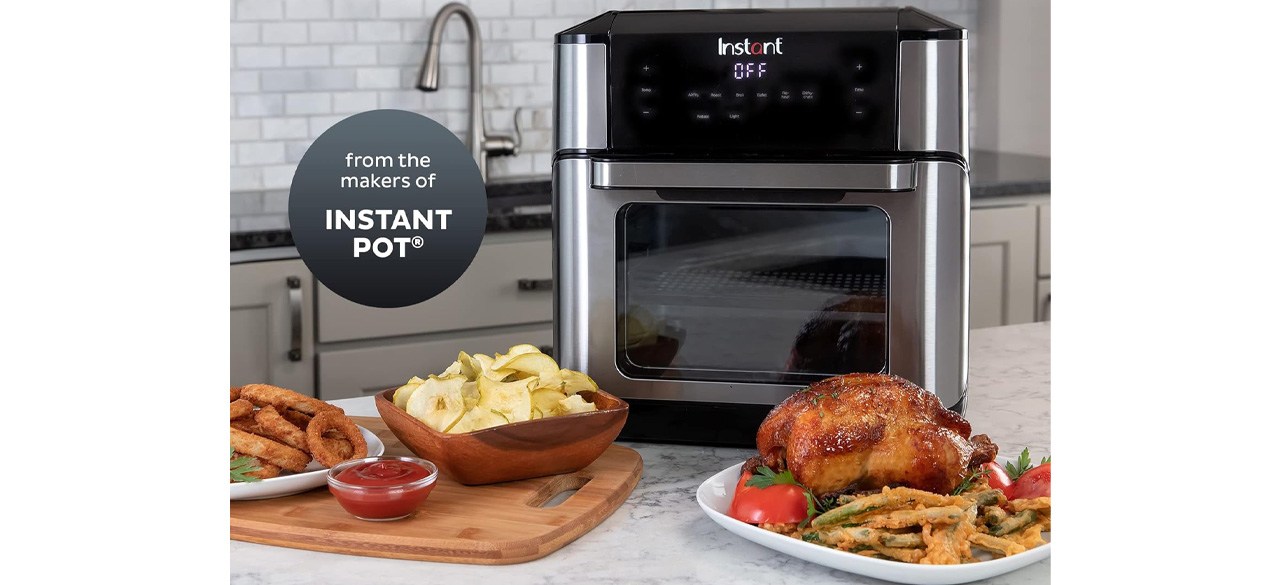 49% OFF
If versatility is what you're after, this Instant Pot air fryer offers seven cooking functions, including dehydrating and rotisserie cooking. It also requires little to no preheating and heats up to 400 degrees, so you can enjoy your meals as quickly as possible. Best of all, it's easy to clean with a removable door and dishwasher-safe accessories.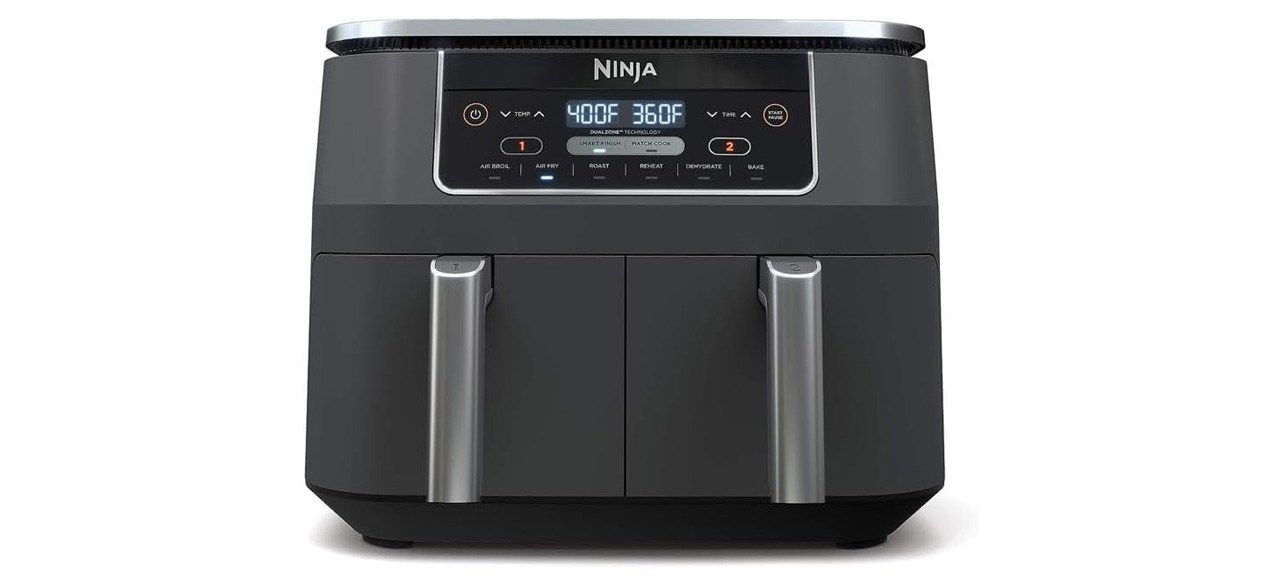 40% OFF
With dual baskets, this air fryer lets you prepare two foods at the same time. Plus, the Smart Finish feature ensures all food in both baskets finishes cooking at the same time, so you'll never have to eat a cold meal. The dehydration feature is also extremely efficient, taking less time to dry spices than other methods.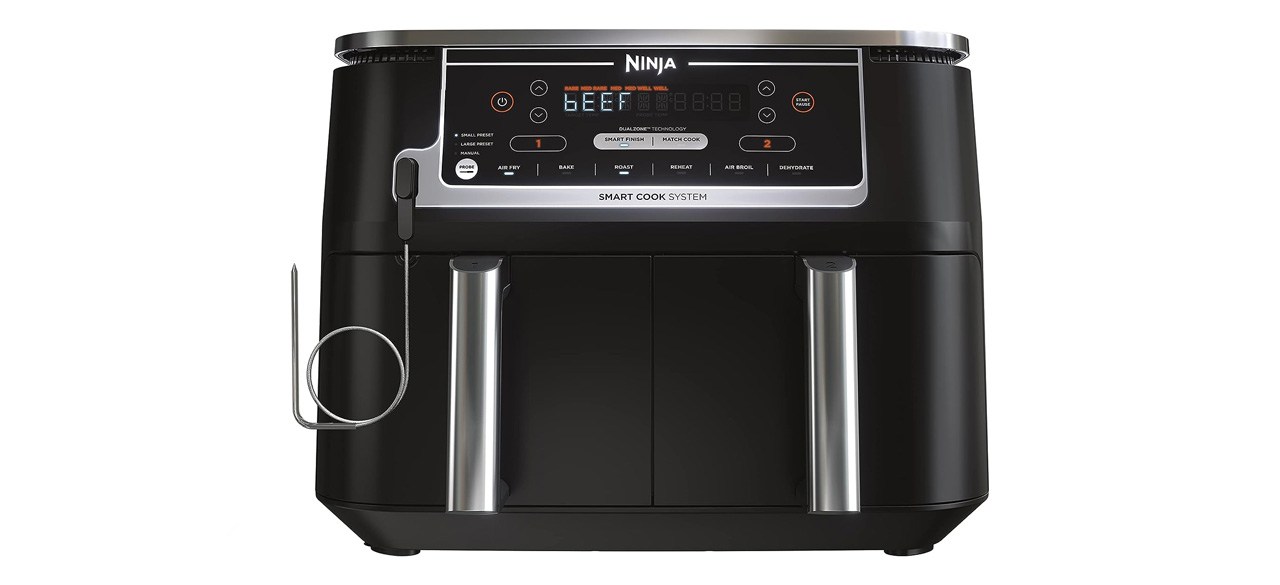 48% OFF
Say goodbye to back-to-back air fryer batches and cold food, thanks to this Ninja model with two independent baskets. And each basket has an extra-large five-quart capacity spacious enough to fit a rotisserie chicken or fries for a crowd. With the smart cook system that achieves the perfect doneness with the touch of a button using its integrated smart thermometer, this air fryer takes out all the guesswork.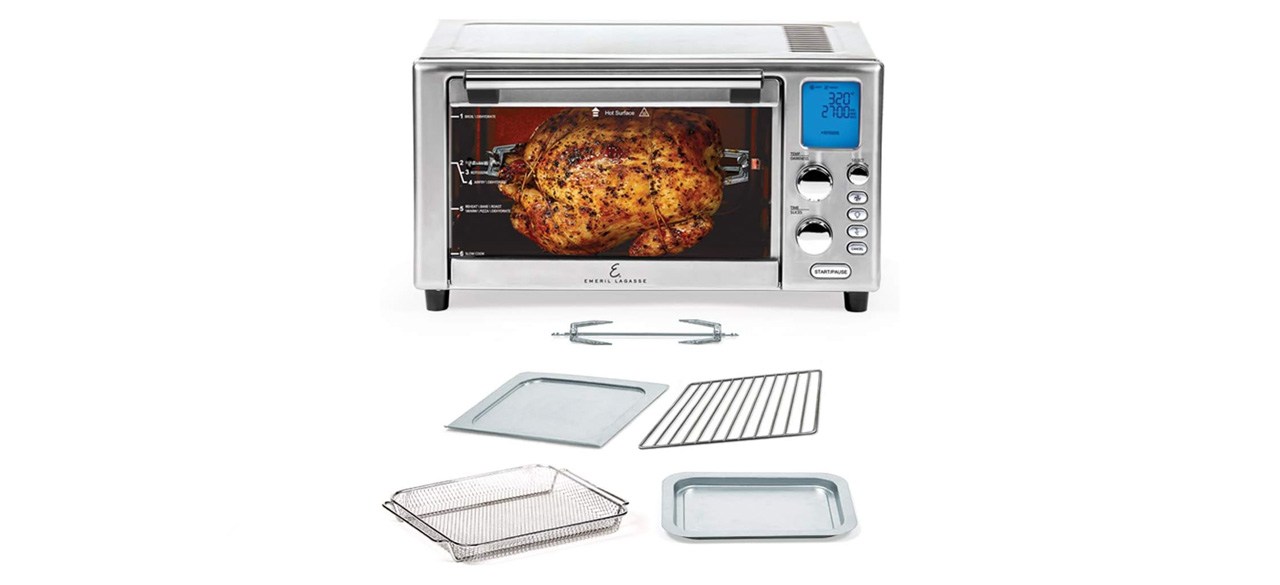 25% OFF
Versatility is the highlight of this air fryer that offers nine functions and features five heating elements to mimic a normal oven. The custom setting allows you to quickly toast up to six slices of bread simultaneously, rotisserie a chicken, bake desserts, slow cook, bake pizza and more. The LCD knobs and modern display are also simple to operate.
Other Cyber Monday air fryer deals under $200 worth checking out
Air fryer deals under $100
Plenty of basket air fryers are on sale for Cyber Monday for less than $100. You can even find some smaller-capacity air fryer ovens in this price range.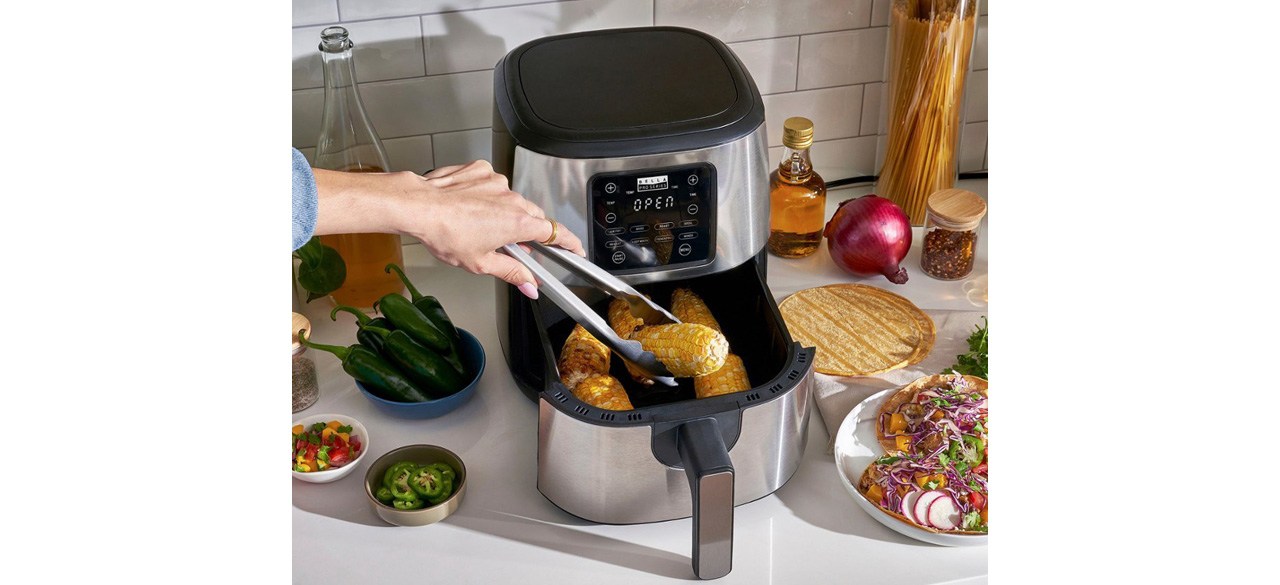 50% OFF
This sleek stainless steel air fryer can hold up to 3.6 pounds of food, making it perfect for four to six people. It has easy-to-use touchscreen controls and a dishwasher-safe cooking pan and crisping tray. The 60-minute auto shut-off timer ensures operation is always safe, too.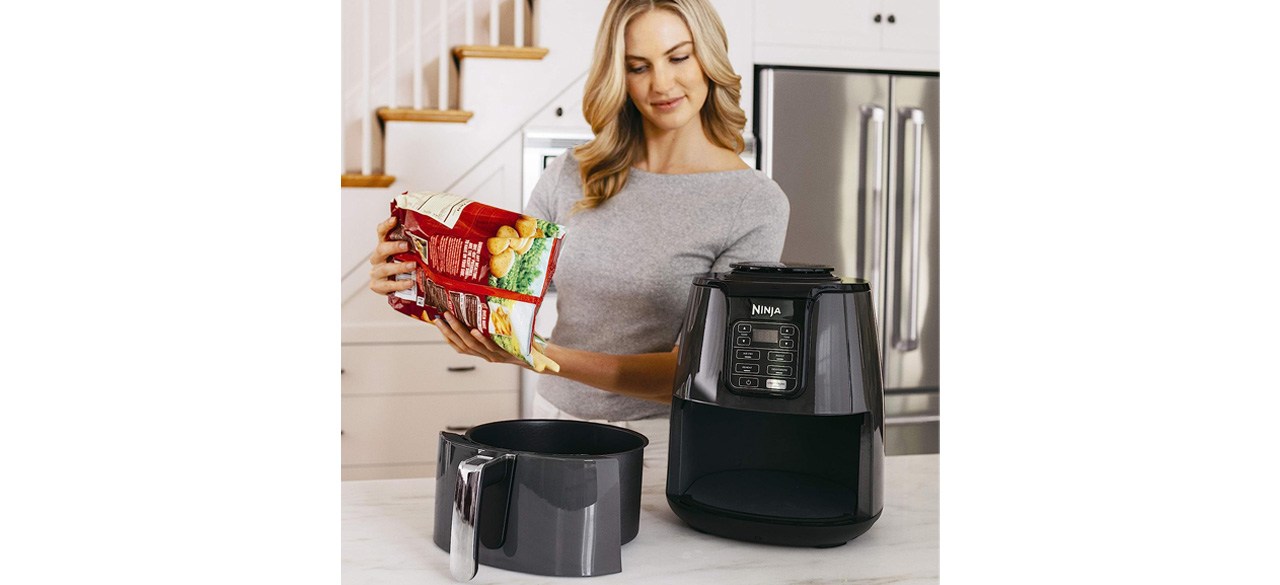 38% OFF
With four cooking programs, this air fryer covers all the basics and provides plenty of versatility. It has a 4-quart ceramic-coated nonstick basket that can hold up to 2 pounds of french fries and is even dishwasher-safe for easy cleaning. Its user-friendly touchscreen display makes cooking easy, too.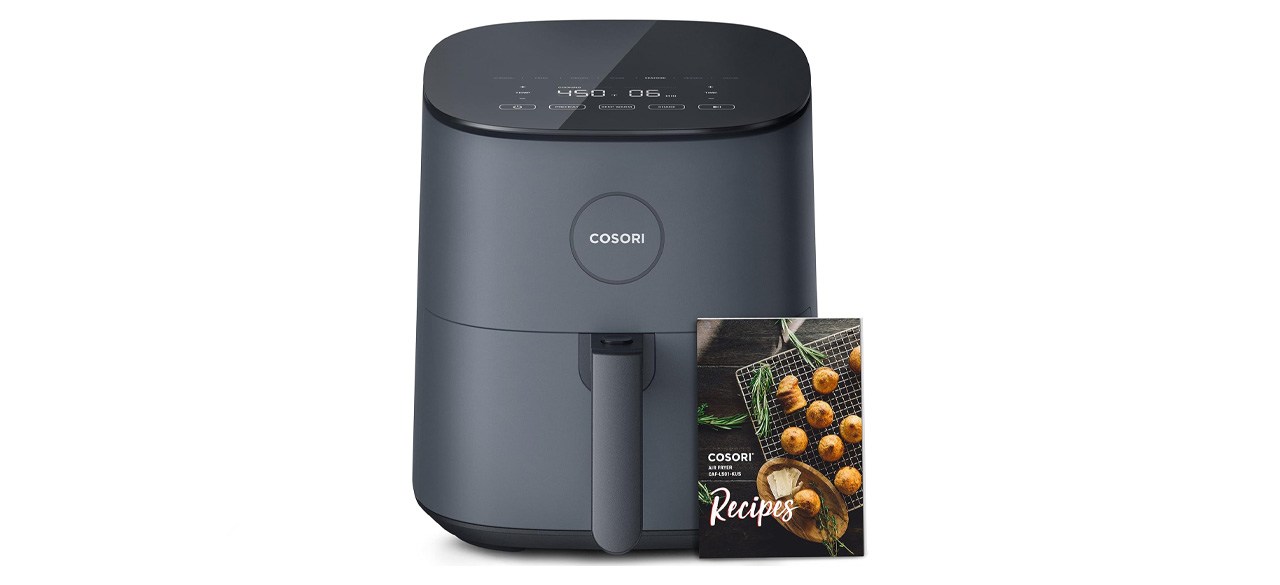 15% OFF
With nine one-touch functions, this air fryer is perfect for beginners or anyone in a rush. While it holds up to five quarts of food to feed up to four people, the compact design fits on a countertop, small apartment or in a dorm room. The non-stick basket is also dishwasher-safe, so you can spend more time eating and less time cleaning.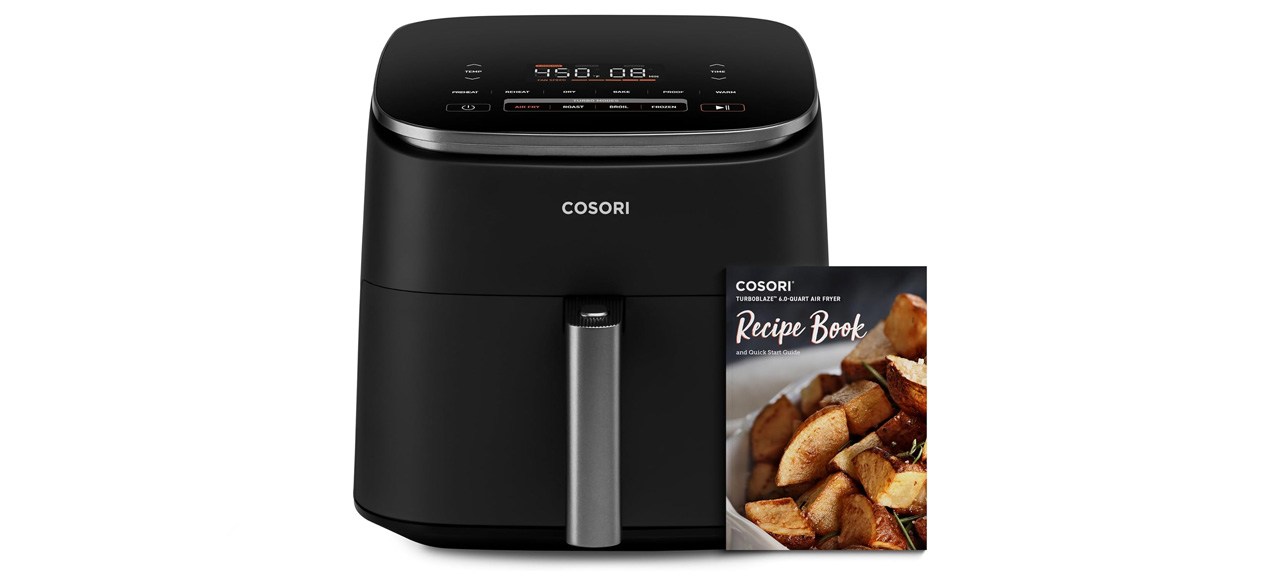 17% OFF
To live up to its name, this TurboBlaze air fryer is designed with a motor that cooks up to 46% faster than older Cosori models, allowing you to spend less time in the kitchen. But you don't have to worry about the motor being loud because it features a snail shell reflector to minimize noise level. The six-quart capacity is large enough to feed a crowd and the basket can be placed in the dishwasher after your gathering for effortless cleanup.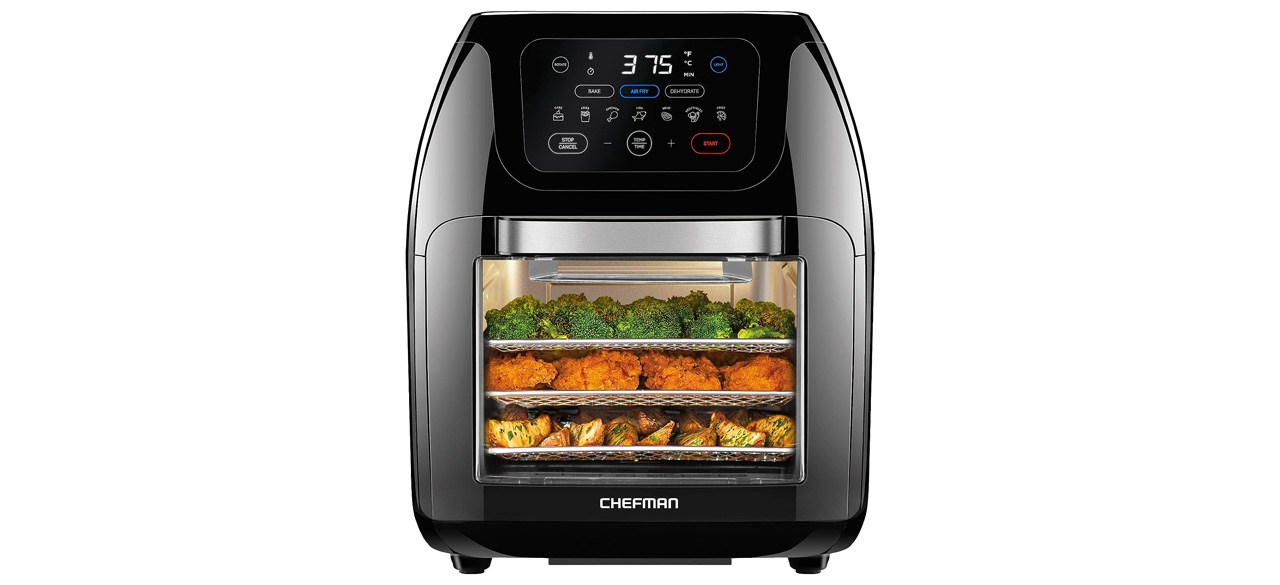 29% OFF + $10 OFF COUPON
With 17 simple presets, beginners can cook delicious meals in minutes. It has a clear window that lets you watch your food as it cooks and dishwasher-safe parts that make cleanup a breeze. It also offers four cooking modes in addition to air-frying, so you can prepare a wide range of recipes.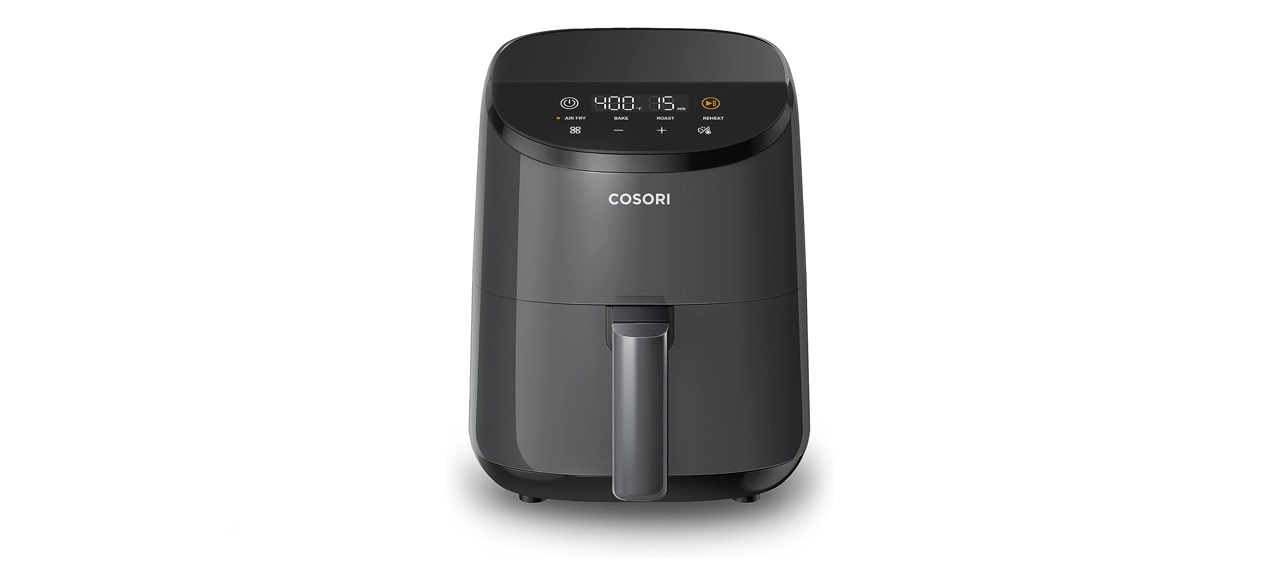 25% OFF
If you're looking for a mini air fryer to take to college or whip up a midnight snack, this model is perfect. At 2.1 quarts, it's the ideal size for a personal batch of wings or fries and is lightweight enough to be carried and stored wherever you need. It's the quietest Cosori air fryer and has the ability to air fry, bake, roast and reheat.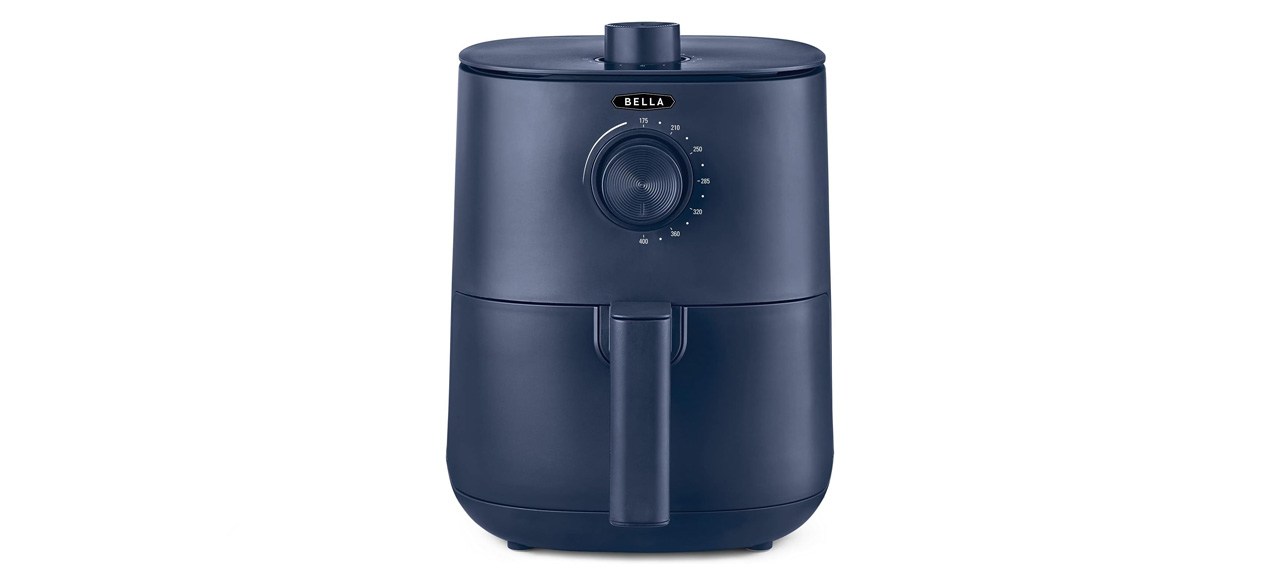 17% OFF
This budget-friendly air fryer might be inexpensive, but it still has five functions, including air frying, baking, roasting, broiling or reheating. The simple knob controls are intuitive to use and great for beginners. While it can fit up to 2.5 pounds of food, it's also compact and lightweight enough to easily lift and save you valuable space on your countertop.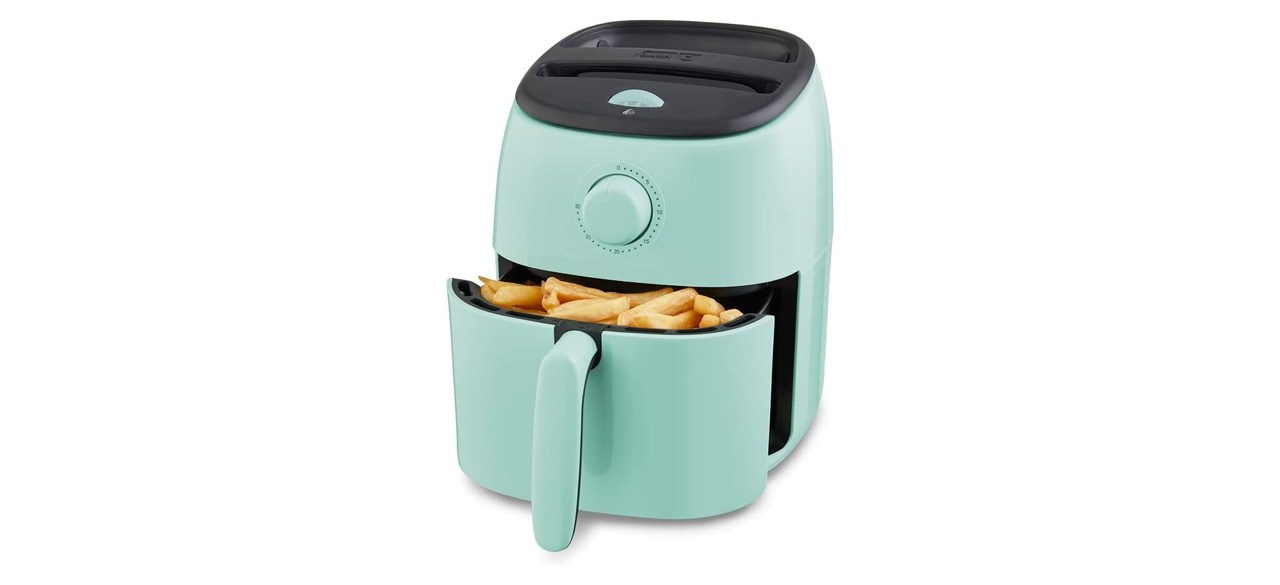 25% OFF
Since it's available in six fun or neutral colors, this air fryer can suit any style or decorating scheme in the kitchen or dorm room. For safety, it is designed with an auto-shut-off function that prevents overcooking and a handle that never gets hot. While it's compact, this model features a redesigned crisper basket that allows for greater surface area for cooking chicken nuggets, french fries or fish sticks.
Other Cyber Monday air fryer deals under $100 worth checking out
Who has the best Cyber Monday air fryer deals?
For popular products like air fryers, you'll typically find the best Cyber Monday deals at big-name retailers like Walmart, Best Buy and Target. Amazon often has the biggest savings, though, because it carries the widest range of brands.
But you shouldn't overlook manufacturers' websites. Brands like Instant Pot, Ninja, Breville, Cuisinart and Cosori usually have Cyber Monday sales, so you may find even better deals directly from the manufacturer. Compare prices among several retailers before pulling the trigger on a Cyber Monday air fryer sale to ensure you get the best deal.
Air fryer features to consider
To find the best air fryer deal this Cyber Monday, you need to know which model will best meet your cooking needs. After testing many of the top air fryers on the market, we've found that paying attention to a few key features can help you identify the right model for your kitchen.
Type
Air fryers are available in two main types: basket air fryers and air fryer ovens.
Basket air fryers are usually smaller, while air fryer ovens offer a larger capacity. That means they can cook for more people and often offer extra cooking functions. However, during testing, we found that basket air fryers typically preheat faster and have shorter cooking times than air fryer ovens.
Size and capacity
Air fryers are countertop appliances, so you want to ensure you have enough space on your counter for any model you choose. Basket air fryers typically have a smaller footprint, while air fryer ovens are the size of a toaster oven or microwave. If you're considering an oven, pay careful attention to the dimensions to ensure it will fit in your kitchen.
However, if you opt for a basket air fryer to save counter space, you'll likely sacrifice some capacity. During testing, we found basket air fryers generally have a capacity of 1 to 10 quarts, while air fryer ovens range from 12 to 30 quarts. You should usually have at least 1 quart of capacity for every person you cook for, so a 1- to 3-quart air fryer is best for one to three people. For a family of four, opt for a 4- to 6-quart air fryer. If you regularly entertain or host holiday dinners, an air fryer oven with at least a 12-quart capacity is your best bet.
Cooking functions
Some basket air fryers only have a single cooking function, which limits their versatility. Other models offer three or four functions and some presets, but you can find high-end models that offer as many as 13, which allows them to replace multiple countertop appliances in your kitchen.
Since air fryers are essentially mini convection ovens, you can bake, toast and reheat in any model. However, some air fryers have a wider temperature range, supporting even more cooking functions and presets. In addition to air-frying, you can find air fryers that bake, toast, roast, broil, slow cook, reheat, warm, proof, ferment and/or dehydrate. They often have presets for popular foods like pizza, cookies, french fries, chicken wings and more, too.
Want to shop the best products at the best prices? Check out Daily Deals from BestReviews.
Sign up here to receive the BestReviews weekly newsletter for useful advice on new products and noteworthy deals.
Jennifer Blair writes for BestReviews. BestReviews has helped millions of consumers simplify their purchasing decisions, saving them time and money.
Copyright 2023 BestReviews, a Nexstar company. All rights reserved.